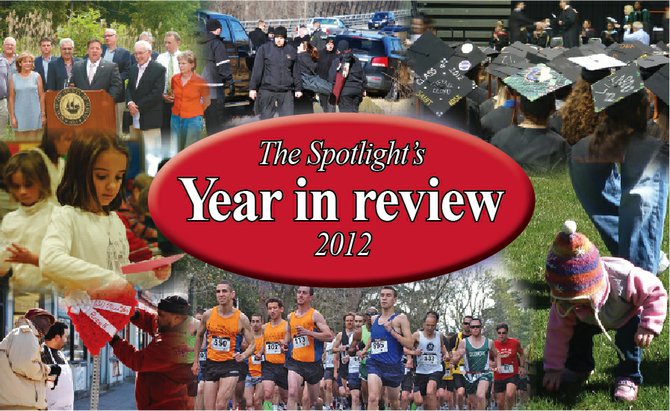 CAPITAL DISTRICT — January
• Normanside Country Club in Delmar is purchased by an investment team made up of members from the Hostig family and Rafael Flores, after the previous owners filed for Chapter 7 bankruptcy. Extensive renovations are put into the facility and restaurant, with memberships re-instituted at a reduced price.
• At a public forum, former Town Supervisor Jack Cunningham ends his bid to be appointed to the Bethlehem Town Board seat left empty by Mark Jordan. Cunningham says placing his name in the ring seems to be impeding the goals of Supervisor John Clarkson. The event is meant to give the public a chance to meet and speak with contenders for the appointment.
• An employee of the Bethlehem Central School District and her husband are arrested on drug charges after a joint investigation by the Albany County Sheriff's Office and Bethlehem Police Department. School psychologist Maria Mangini is arrested along with her husband, Brian Mangini, after it was learned they were in possession of a large quantity of marijuana in their home through the couple's babysitter. The charges against Maria Mangini are eventually dropped after her husband, an instructor at Blue Sky Music, takes responsibility for the drugs and additional paraphernalia.
• Elisabeth Smith is appointed the new interim superintendent for Ravena-Coeymans-Selkirk Central School District to replace Daniel Teplesky, who left for a position downstate. Smith says she hoped to focus on graduation rates, and passing an acceptable budget given the state's current fiscal challenges.
• Former board member George Lenhardt is sworn in after being selected for a one-year appointment to the Bethlehem Town Board by a unanimous vote. Lenhardt says he is shocked to received the call, but honored. The list of potential appointees included seven other people.
• New Bethlehem Republican Committee Chairman Fred Di Maggio says he wants to lead the town's GOP in a new direction, after Republicans faired badly in previous election cycles. He feels national Republican races are off-putting to the public and are giving party members on the local level a bad name with topics that shouldn't be discussed at the local level. Di Maggio aims to get in touch with the party's base to work on recruitment and fundraising.
(Continued on Next Page)
Prev Next
Vote on this Story by clicking on the Icon