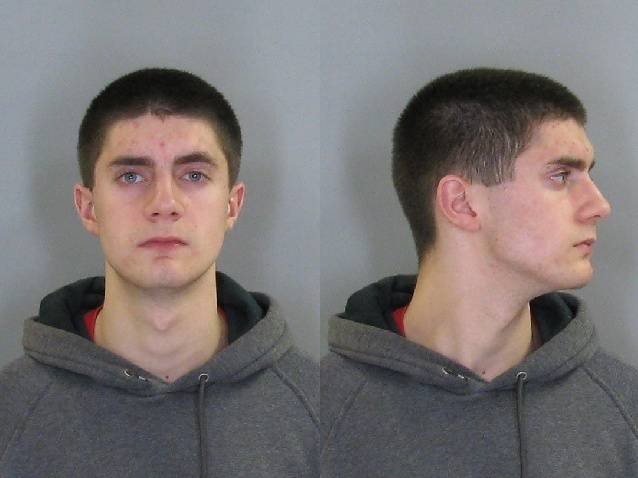 BETHLEHEM — Bethlehem police have arrested a teen for allegedly running down another youth with his car after several peers allegedly knocked down his paint ball forts.
Jospeh E. Badolato, 17, of Ivywood Drive in Selkirk, is accused of driving his car off the road and across the oncoming lane on Ashgrove Lane in Selkirk at about 3 p.m. on Tuesday, Feb. 7. Lt. Tom Heffernan said Badolato was trying to scare three teenagers walking home from school who he believed ruined his forts.
Badolato told police he went looking for three of his peers who he believed called to ask if he had recently checked his paint ball forts in the woods, according to court documents. When he went to look at the forts, they had been knocked over. Badolato said he was angry because he spent several hours constructing them.
According to Badolato's statement he went looking for one of the boys he believed had called him at his house, but he was not home. A short time later he saw the teen and two others walking down the road.

Badolato said he then raced towards the teens with his car to try to scare them. He struck one of the teens with his car while the other two were able to jump out of the way, police said. The 16-year-old that was hit sustained a broken thumb and lost several teeth, according to Heffernan. He was transported to Albany Medical Center, treated and released.
"I didn't mean to hit anyone. I'm sorry," explained Badolato in his statement to police. However, one of the teens said he witnessed Badolato jump out of his car and "start screaming" at the injured boy while he was still on the ground.
He was charged with felony reckless endangerment in the first degree, misdemeanor reckless endangerment in the second degree and numerous vehicle and traffic charges. Additional charges may be pending, police said.
Badolato was arraigned in Bethlehem Town Court and released under the supervision of Albany County Probation Department and turned over to his father. He is scheduled to reappear in Town Court on Tuesday, March 6.

Vote on this Story by clicking on the Icon