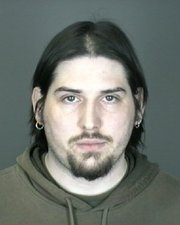 CAPITAL DISTRICT — A 32-year-old Ballston Lake man was arrested by Colonie police on Dec. 22 for allegedly trying to meet who he thought was a 13-year-old female, according to police reports.
Following a lengthy investigation, Ari D. Snyder of 1 Pine Hill Bend in Ballston Lake, a photographer for Naked Rain Studios (operated online), was charged with attempted endangering the welfare of a child, a misdemeanor, according to police reports.
According to police reports, in March 2010, the father of a 13-year-old female resident of Colonie reported to police that he discovered Facebook messages from Snyder to his daughter that were of an introductory nature and not criminal, yet were suspicious and appeared to be leading to a more serious or criminal incident. Snyder knew the 13-year-old female through his girlfriend's daughter, who was a classmate, according to police reports.
Colonie Police Juvenile Investigator Christopher R. Smith assumed the identity of the 13-year-old female and over the course of the next year and a half, the Facebook conversations with Snyder turned to a sexual nature and Snyder attempted to set up a face-to-face meeting, according to police reports. Snyder said he was a photographer and tried to get the victim to pose for him, said police, but no meeting took place and there is no indication Snyder met with any other minors.
Police said Snyder also used the identity Johnny Cage on Facebook and had several hundred Facebook "friends" between his two accounts.
Police are asking anyone who believes Snyder had contact with their child to contact their local police department.
Snyder was arraigned in Colonie Town Justice Court and released under supervision of Albany County Probation until his next appearance date of of Jan. 11, according to police reports.
Check back to spotlightnews.com for updates on this story.
Vote on this Story by clicking on the Icon