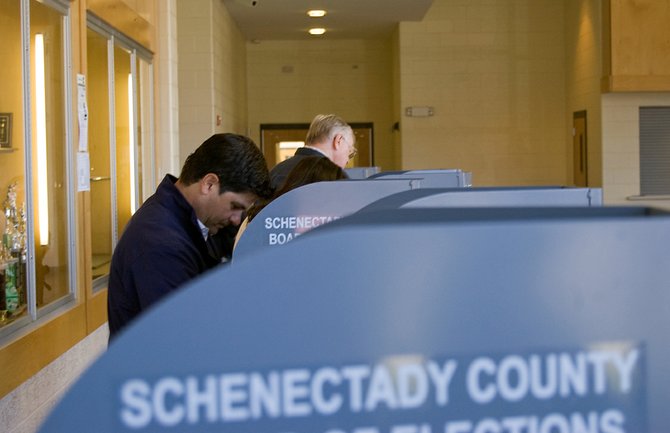 46TH SENATE DISTRICT — A winner can't be declared in the newly drawn 46th Senate District until absentee ballots are counted, as a slim margin separated the two candidates on election night.
Cecilia Tkaczyk, D-Duanesburg, declared victory over George Amedore, R-Rotterdam, shortly after unofficial results put her ahead by 139 votes. Tkaczyk had 58,314 votes and Amedore had 58,175.
Tkaczyk said once all the ballots are counts, she expects her margin to grow.
"I am up in the numbers and I am declaring victory," Tkaczyk said. "I think when all the ballots are collected I will be the victor."
Amedore's campaign, however, is buckling down for a long battle to be fought in boards of elections and courtrooms.
"This morning (Wednesday, Nov. 7), we filed a show cause order in Montgomery County Supreme Court to protect and substantiate each and every ballot," said Kris Thompson, a spokesman for Amedore, in a statement. "We must institute safeguards to protect every vote in this process, which may take considerable time."
Thompson said Amedore's campaign "implemented an ambitious absentee program." He was confidant once all the ballots are counted that Amedore would emerge victorious.
"We will proceed with patience and confidence as this process moves forward," Thompson said.
On election night, as votes started to roll in, the lead swayed between both candidates, with Amedore reportedly expressing confidence early on. Tkaczyk said it was a long night, but at the end she clung excitedly to her lead, however slight.
"It has been pins and needles and I am ecstatic that I at the end of a very long day won," she said. "You only need one vote to win."
Amedore, after casting his ballot at Schalmont High School earlier in the day, said he was optimistic that voters would continue to support him after leaving his Assembly seat to pursue the larger Senate district.
(Continued on Next Page)
Prev Next
Vote on this Story by clicking on the Icon