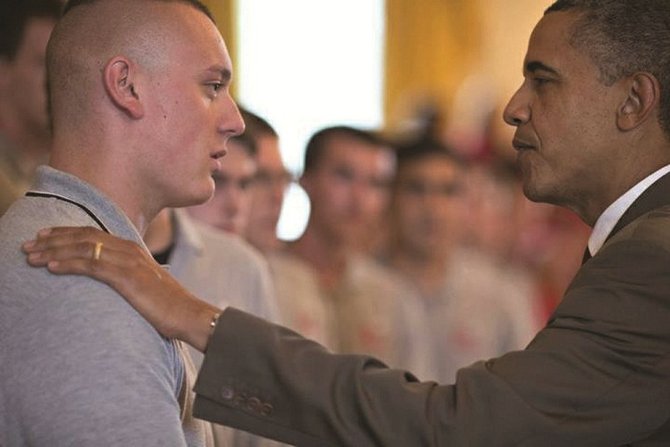 CAPITAL DISTRICT — If there's one thing 17-year-old Chris Watson is short on, it's free time.
On a typical week day, the Christian Brothers Academy senior wakes up at 4 a.m., goes to the gym, attends classes at school and works with the drill team, color guard, rifle team and Raider team, then drives out to train as a volunteer for the Wilton Fire Department, cuts wood for his family and somehow always gets his homework done. On the weekends, he works at Panera Bread, stays on call for the fire department and if he has time, goes hunting or fishing.
"I hardly sleep at all," Watson, of Saratoga, said.
If all that was not enough, Watson is also a past governor of New York.
He was elected to the mock post over the summer as part of The American Legion Boys State, a program that selects high school juniors to participate in the operation of local, county and state mock governments.
Peers elect one another as officials, hold legislative sessions, lead court proceedings and draft bills and resolutions. Each year, the Legion sponsors about 1,000 students to head to SUNY Morrisville for a week in the summer for Boys State, and Watson was one of the few CBA students selected.
When he was there, Watson decided to run for governor because he said he had "nothing to lose." He said he was shocked that he was elected for the position.
Head of the CBA ROTC program Maj. David Erickson wasn't so surprised at Watson's success, though, because "kids gravitate to him," he said.
"He'll take charge in something and they'll just follow him. Fortunately he's doing something positive," Erickson said. "He's not afraid to speak up for what's right."
The summer didn't end there, though. After Boys State, two students from each state are selected to go to Boys Nation, a week of federal government training where students act as senators. It's a program that has seen the likes of Tom Brokaw, Bill Clinton and future political leaders of all stripes.
(Continued on Next Page)
Prev Next
Vote on this Story by clicking on the Icon