GUILDERLAND — Albany County District Attorney David Soares announced on Thursday, March 28, Kenneth Willete, 36, was sentenced to eight and a half years in state prison followed by five years of post release supervision relating to a 2010 home burglary in the Town of Guilderland.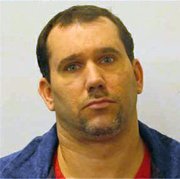 Willete broke into a Heartland Drive home by kicking in a basement window on June 3, 2010, and stole sports memorabilia, jewelry, electronics and money, according to police. As Willete was leaving, the homeowner returned and was confronted by Willete before he drove away.
Police identified Willete using the state DNA Databank from blood left at the scene when he broke through the basement window.
"The use of DNA to link defendants to a crime is a powerful tool in the arsenal of law enforcement, and one that we will continue to proactively use to ensure justice for the citizens of Albany County," Soares said in a statement. "The defendant in this case may have left the state with no intention of returning, but, when he is finished serving his prison sentence in New Hampshire, we will happily welcome him back to New York to serve eight and a half years in a New York State Prison."
Willete pleaded guilty to burglary in the second degree, a felony, on Jan. 29. He is currently incarcerated in a New Hampshire State Prison for an unrelated crime, according to police.
Vote on this Story by clicking on the Icon