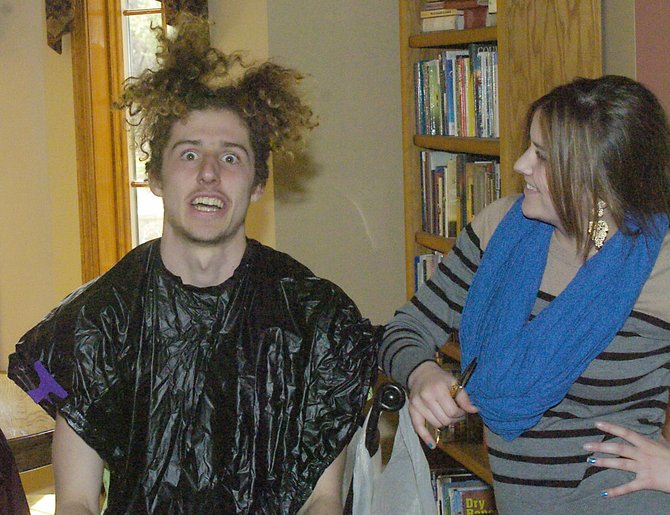 Ballston Lake — No Section II runner was more recognizable than Burnt Hills-Ballston Lake's Joe Girard.
All you had to do was look for the tall, lanky kid with an afro two sizes bigger than his face.
Not any more.
Photo Gallery
No more 'fro for 'FroJoe'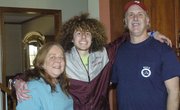 Burnt Hills-Ballston Lake senior Joe Girard -- known around Section II track and field circles as "FroJoe" for his unique hair -- received a haircut Sunday, April 7, so he could donate the clippings to Locks of Love, a charity that creates wigs for cancer patients to wear.
The senior with the nickname "FroJoe" no longer has his recognizable mane.
Girard had his locally famous locks lopped off Sunday at the Ballston Lake home of his friend, Sara Neville. The hair he spent approximately 18 months growing to heights unseen on a Suburban Council track or cross country course was now in a plastic bag. He sent the clippings on to Locks of Love, a charity that takes donated hair and turns it into wigs for cancer patients.
As he sat in the Neville family's kitchen having sections of his hair cut one by one by Neville, Girard immediately noticed the difference.
"It feels like my head is weightless," said Girard.
Girard gave Neville, a fellow BH-BL student also studying cosmetology at Albany County BOCES, the honor of cutting his hair down to an unrecognizable size.
"He trusts me for some reason," said Neville.
After studying the task at hand, Neville began the process by bundling small sections of Girard's afro and then cutting as close to his head as possible. Within 30 minutes, Girard was two inches shorter than when he walked in with his parents, Joe Sr. and Marylou.
After another 20 minutes of having his hair shaved down to get rid of the remaining curls, Girard got up and looked at himself in a nearby mirror. He let out a quick shout — mostly for effect — and stared at what had become of his head.
Girard said he suspected he wouldn't be the only one surprised by his new look. His friends, his BH-BL classmates and his fellow track athletes would likely also be taken aback.
(Continued on Next Page)
Prev Next
Vote on this Story by clicking on the Icon