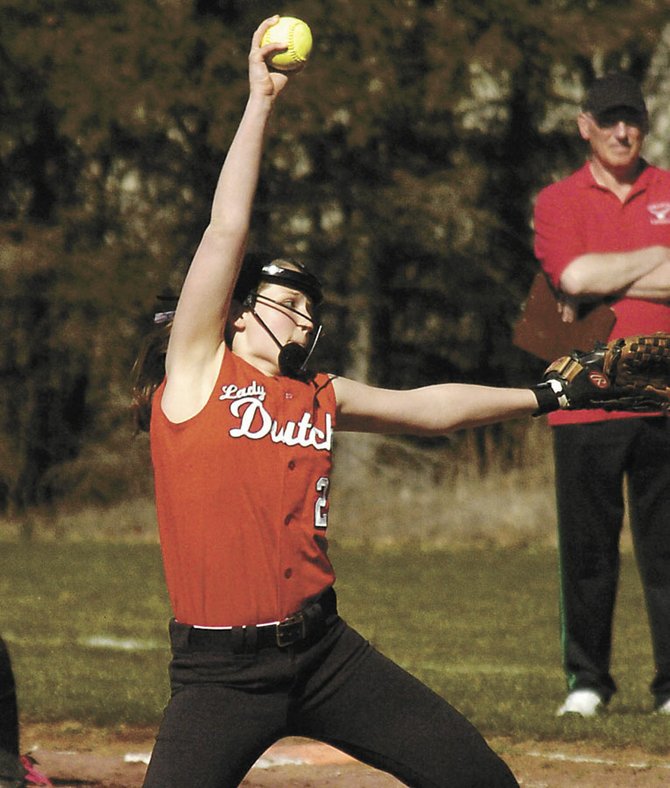 GUILDERLAND — After a slow start, things are beginning to pick up for the Guilderland softball team.
The Lady Dutch (2-3 league, 3-4 overall) have won two of their last three games, including a 10-6 Suburban Council victory over Shaker last Friday.
"It's been a disjointed season," said Guilderland coach Lou Marino. "It's a team that hasn't been hitting at all. We had 15 hits in the first four games, and then we had nearly that many hits against Shaker."
Jenna Cubello provided the power against Shaker with a pair of home runs as part of a three-hit afternoon. Cubello drove in three runs and scored three more for Guilderland.
Torie Rathwell contributed three hits and two RBI, and Mallory Harrigan added a pair of hits and an RBI.
The hits continued to pile up for Guilderland during Sunday's non-league doubleheader at Keenholts Park. The Lady Dutch had nine hits in a 9-5 loss to Queensbury, and they added five hits in a 3-0 win against South Glens Falls.
"We're starting to hit the ball better," said Marino. "The more (live pitching) you see, the better it will get."
Harrigan and Cubello were responsible for much of Guilderland's offense against Queensbury in the opener. Harrigan doubled twice, singled and scored two runs, while Cubello chipped in with two hits, two runs and an RBI.
Rathwell's two-run double in the bottom of the fifth inning helped Guilderland put away South Glens Falls in the second game. Tori Greco added a triple, and starting pitcher Taylor Tewksbury tossed five innings of one-hit ball.
Marinso said the Lady Dutch are hoping to carry the momentum they built last weekend into this week's Suburban Council action.
Vote on this Story by clicking on the Icon