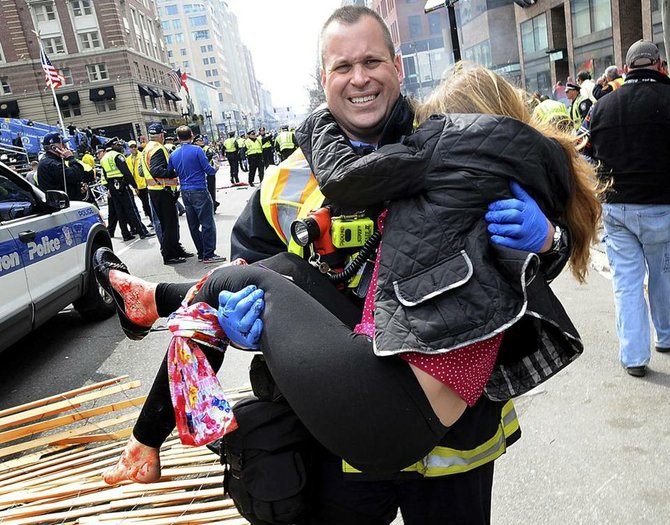 COLONIE — Growing up with two firefighters and EMS volunteers as parents, it came as no shock to Peter and Janet Plourde that their son Jimmy would become a firefighter himself.
"It wasn't unusual to see us jump up during dinner (to answer a call)," Janet said. "He really grew up with the responsibility to give back to the community."
So when they saw their son's photo appear splashed across the television screen carrying an injured girl away from a blast site at the Boston Marathon bombing on Monday, April 15, they were nervous, but not surprised.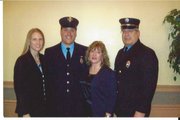 "Oh my God, it was shocking and it was startling to see your own child in that type of framework. And yet I have to be honest … I would have almost expected that was Jimmy. He was always the one right there to do what needed to be done," Janet said.
Jimmy, a Colonie Central High School and Siena College graduate, began his firefighting career by volunteering at age 16 with the Town of Colonie Shaker Road-Loudonville Explorer Post. He also tried to volunteer throughout the community in any way he could. In support of his sister who has lupus, Jimmy raised almost $28,000 at Siena for a lupus fundraiser, his mother said.
"Jimmy is probably one of the most kind, sincere young men people have ever met," Janet said. "Jimmy just volunteers for everything."
After graduating from Siena with a degree in political science, he moved to Boston to teach history but "wanted to do more to give back," his mother said. He started working as a paramedic in Boston and now, at 35, works as a firefighter and lives in Boston with his wife and daughter.
"Sometimes we used him for practical tests for EMT … he begrudgingly got involved in that," Peter said. "It obviously ingrained in him something, because now he's a Boston fireman."
(Continued on Next Page)
Prev Next
Vote on this Story by clicking on the Icon