Drew Smith didn't hear his name called, but he got the call he wanted.
The Buffalo Bills signed the running back to a three-year free agent deal Saturday, minutes after the Guilderland High School graduate slipped through the National Football League Draft without being picked.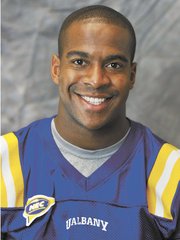 "It's just crazy. It's surreal," said Smith, who concluded his senior season at the University at Albany. "As a kid you dream to just get a shot, and now it's happened."
The excitement was shared by Smith's former high school coach, Dan Penna.
"I'm just so happy for him … just seeing how far he's come as an athlete," said Penna. "I think he realized he had a chance to do something great, and he just invested himself in his junior and senior years (in high school)."
Projected as a potential late-round pick, Smith spent Saturday waiting to see if any NFL team would select him.
"I had the (cell) phone next to me on loud all day," said Smith. "Every time the phone rang, I jumped. It was a horrible day until the Bills called."
Not only did the Bills want Smith, they were willing to give him a multi-year deal including a signing bonus. Smith said that was what led him to western New York.
"The (New Orleans) Saints called me a few minutes later, but the fact they (the Bills) offered me three years off the bat means they want me to play there," said Smith.
Smith becomes part of a select group of Section II football alumni to earn a shot at the NFL. Hudson's Rashad Barksdale, Queensbury's Adam Terry, Albany Academy's Dion Lewis, Niskayuna's Andre Davis and Saratoga's Anthony Weaver have all played in the NFL in the last 12 years. Coincidentally, Weaver is now a member of the Bills coaching staff.
Penna said he couldn't recall the last time a Guilderland High School graduate signed an NFL deal.
"It just brings an electric type of enthusiasm because it's an unprecedented thing for our program," said Penna.
Signing the free agent contract doesn't guarantee Smith a spot on Buffalo's 2013 roster. He said he still has to go to training camp and prove he belongs.
"Now, I've got to make sure I keep my head straight and stay focused," said Smith.
Vote on this Story by clicking on the Icon