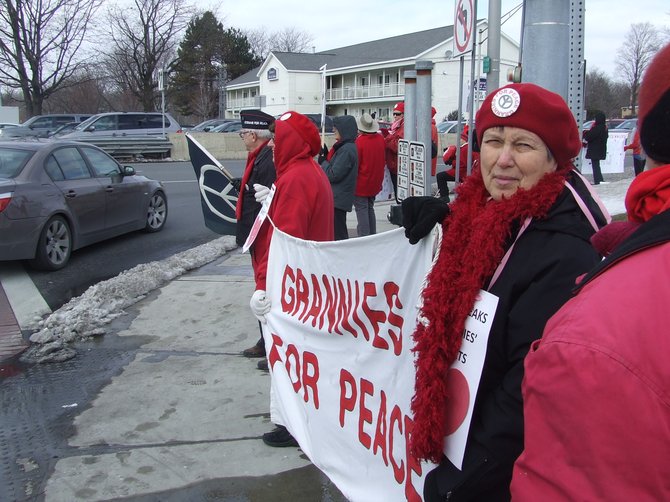 This Valentine's Day, Dot Richards was heartbroken.
The grandmother of 12 stood holding a sign at the corner of Wolf Road and Central Avenue, hoping Capital District residents driving by would honk their horns in support of ending gun violence, advocating for peace and most importantly, cherishing their loved ones.
"Valentine's Day speaks of love and speaks of hearts. Our hearts are broken when we see anything happen to our children," the Colonie resident said. "Grandchildren are one of the things that keep grannies focused and happy, and to see them harmed in any way or to feel that have to live in fear because of the proliferation of deadly arms. … Our hearts are broken."
Richards joined more than 20 other grannies and grandpas on Thursday, Feb. 14, at the busy intersection for a vigil calling for an end to gun violence, both in wartime and domestically. Cars beeped their horns every few minutes in support as protestors held signs reading "More Peace" and "War Breaks Grannies' Hearts."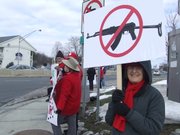 With a renewed national dialogue on tougher gun laws, Richards said she hopes there is a "bipartisan discussion and dialogue without heat and accusation."
"Come up with some reasonable answers to the out-of-control amount of guns and out-of-control amount of deaths by guns in our country," she said.
Grannies For Peace, which formed in 2006 as an offshoot of the Capital District Women Against War group, keeps most of its focus on improving health care for returning veterans. About 80 members strong, they also hold several vigils each year on Mother's Day.
Barbara Cooley, a cofounder and Delmar resident, said the group's members wanted to be a part of their own organization that stood not against war, but for peace. Normally, the group seeks peace and straying away from gun violence during war. This is the first year they are linking that with gun violence at home.
(Continued on Next Page)
Prev Next
Vote on this Story by clicking on the Icon