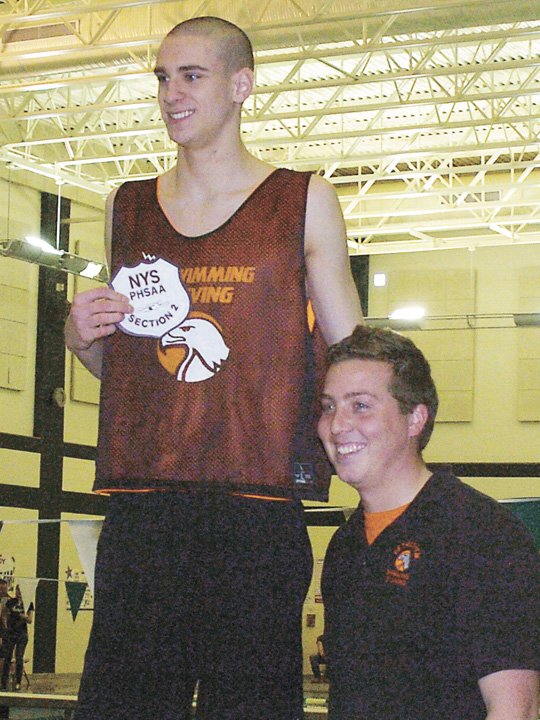 CLIFTON PARK — Gunnar Zemering finally caught Ryan Gordon.
The Bethlehem Central High School junior edged Gordon in the 50-yard freestyle finals at Saturday's Section II Division I boys swimming and diving championships at the Shenendehowa Aquatic Center.
Zemering used his height and reach advantage to out-touch Gordon at the wall for what he believed to be his first win against the Shen junior.
"Pretty much my whole swimming career, he's been one step ahead of me," said Zemering, who won with a time of 21.41 seconds.
"Gunnar had an amazing race," said Gordon, who settled for second place with a time of 21.44 seconds. "He did everything right, and he should have won the race."
Zemering said he felt like he'd never beat Gordon until he caught him in the final strokes.
"I used to convince myself I couldn't do it," said Zemering. "Now that I've done it, that mentality has pretty much gone away."
"I've been racing him for a long time, and it was bound to happen at some point," said Gordon.
Gordon went back to dominating Zemering later in the meet when he won the 100-yard freestyle with a time of 46.77 seconds. Zemering placed second with a time of 47.94 seconds.
"That last 25 (yards) hurt so bad, but I knew I had to finish strong," said Gordon.
Zemering was one of two area swimmers to win individual titles at Sectionals. Guilderville's Reid Zyniecki claimed the 200-yard freestyle title with a time of 1:45.30, more than one second ahead of runner-up Eric Burdge of Shen.
Zyniecki, who also qualified for the state meet with a fourth-place finish in the 100-yard breaststroke, said he was pleased with his overall performance.
"I would have liked to place higher in the breaststroke, but it was a great race," said Zyniecki.
Zyniecki won't be competing in the 200-yard freestyle or 100-yard breaststroke at the state meet, though. He pre-qualified for the state meet in the 200-yard individual medley and the 500-yard freestyle.
(Continued on Next Page)
Prev Next
Vote on this Story by clicking on the Icon