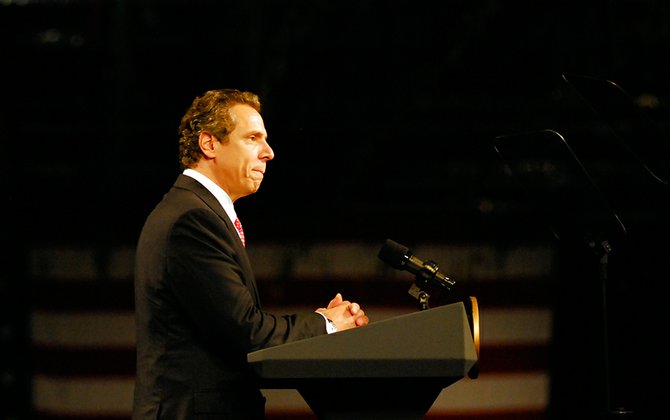 CAPITAL DISTRICT — If it were up to educators, Gov. Andrew Cuomo probably wouldn't be making the honor roll.
In his State of the State address on Thursday, Jan. 10, Cuomo linked education to the economic recovery of the state and laid out several proposals to enhance the quality of the state's public schools. But many of Cuomo's initiatives will require additional funds to be spent in schools that administrators claim are already tapped out through declining state and federal aid and strangled by the very property tax cap championed by Cuomo. Mandate relief, a common cry from educators, was notably absent from Cuomo's speech.
Cuomo outlined two initiatives for local school districts, both of which include offering more learning time for students and creating better teachers and principals. The proposals followed recommendations from the New NY Education Reform Commission.
His proposition is to extend learning time by 25 percent, either by lengthening the school day or year. Cuomo also announced a state initiative to fund full-day kindergarten.
"When it comes to education, I say two words: more and better. We need more learning time in this country, not just in this state," Cuomo said. "The advantages of more education are clear. When you look internationally, countries that are beating us educated their children more."
Billy Easton, executive director of the advocacy group Alliance for Quality Education, applauded the governor's proposals. The group previously hosted a forum locally featuring area school district employees speaking about how cuts to education have affected learning opportunities.
"Governor Cuomo's State of the State contains positive educational initiatives including a proposal for full-day pre-K, longer school days and school year and community schools," Easton said in a statement. "We look to the state budget to see how the proposals can move from ideas to reality."
The resounding response from area educators is much the same: Let's see what's in the budget. Shenendehowa Superintendent L. Oliver Robinson said Cuomo's ideas weren't particularly radical and also wondered what might come to fruition lacking mandate relief.
(Continued on Next Page)
Prev Next
Vote on this Story by clicking on the Icon