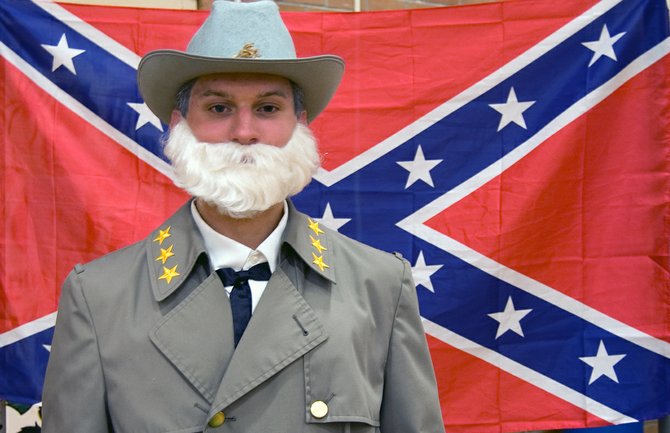 GUILDERLAND — Stepping into a museum and having the famous faces come to life isn't just a Hollywood fantasy for the silver screen. Local students gave classmates and the community a chance to step into the fantasy Thursday, May 30.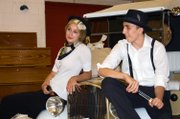 Guilderland High School's East Gymnasium was transformed into a time capsule showcasing notable people from American history, from the criminal duo of Bonnie and Clyde to Serbian-American inventor Nikola Tesla. The event was essentially the final exam for students taking the school's 11X class, which is a course combining English, U.S. history and government coursework. The "museum" was arranged in chronological order, so history marched forward along with the attendees.
11X teacher Erin McNamara said most students appreciate how one course builds off another, so the integration of literature and history for the course works well for students.
"This course is particularly designed to be focused on the concept of the American Dream," McNamara said. "This is their final project – to get into full character and become someone who has influenced the societal view of the American Dream, good or bad."
McNamara said students this year "knocked it out of the park" with their presentations.
"I'm so impressed with some of the props, what they gave thought to do in terms of making it as authentic as possible," she said.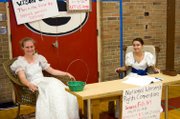 Shannon Mackesey and Cat Walser, portraying Elizabeth Cady Stanton and Susan B. Anthony, respectively, sat in time-period chairs behind a table with signs for the women's suffrage movement and dates of when the National Women's Rights Conventions were held.
"We are both really into women's suffrage and equal pay," Walser said.
Mackesey said she's been interested in the time period around the Women's Suffrage movement because there were "a lot of changes" happening around that time.
Mackesey said she learned how close Stanton and Anthony had been, with around a half-century relationship between the two.
(Continued on Next Page)
Prev Next
Vote on this Story by clicking on the Icon