RAVENA — Since she was a little girl, Casey Young has always been interested in earth and environmental sciences.
The Ravena-Coeymans-Selkirk senior said she planned on going to college to study earth science, but until this year there was one thing she lacked – a more hand-on experience with the field of study she loved. Young said she knew the concepts, but wanted to do some experimenting for herself.
"It's by far easier to learn about the effects you have on your own environment if you see it," she said.
Now, Young's getting her chance. On Tuesday, June 4, faculty, students and parents gathered at RCS High School for a dedication ceremony and open house to showcase the school's new greenhouse. The new facility will be used to help students with a number of classes, including several science courses and electives.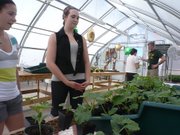 Principal Brian Bailey said he hopes the greenhouse can also be incorporated into other curricula. He said business students might be able to develop a plan to sell items from the greenhouse at school fundraisers, while family and consumer science students may use greenhouse-grown vegetables for cooking. He would also like to see some special education students taking turns caring for the plants.
"We actually retooled the science curriculum to include lessons about the greenhouse several years ago before it was even built," he said.
Bailey said the greenhouse was purchased through a grant that a staff member applied for eight years ago. The $10,000 grant paid for most of the materials and the school had the kit to build the greenhouse for several years, but they needed volunteers. They also needed additional funds to install the concrete pad the greenhouse would rest on and to run water and electricity out to the site. Eventually, another $11,000 was raised from community members and businesses throughout the Capital District.
(Continued on Next Page)
Prev Next
Vote on this Story by clicking on the Icon