RAVENA — Coeymans police have arrested an American Red Cross volunteer after he allegedly sent sexually explicit text messages to a Ravena-Coeymans-Selkirk student after a recent blood drive.
Police said Reynaldo Higgins, 30, was volunteering at a blood drive at the RCS High School on Friday, March 1, when he allegedly obtained the phone number of a 19-year-old student from their donor card and then made "inappropriate contact" with the girl. Higgins allegedly sent nude and sexually explicit text messages of himself to her "in the hopes of furthering the relationship." He also attempted to call her several times, according to police.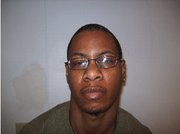 The girl rejected his advances and asked him to stop contacting her. When the calls and texts continued over a four-day period, the girl notified school officials, who then contacted the authorities, police said.
The American Red Cross cooperated in the investigation and Higgins has since been fired. He had only been volunteering with the organization for four months.
Higgins, who was temporarily living in Schenectady, was charged with aggravated harassment in the second degree and stalking in the fourth degree, both misdemeanors. He was arraigned in Ravena Village Justice Court and sent to Albany County Correctional Facility in lieu of $20,000.00 bail.
High School Principal Brian Bailey is sending a letter home with all students today. In the letter, the incident is explained in full and any additional students who may have been contacted in a similar way by Higgins are asked to contact the school district or police.
All of the students who participated in the blood drive were spoken to by school officials, and no additional students have come forward to say they had a similar experience.
"We are so proud of the generous spirit of our students who participated in the blood drive," said Bailey in the letter. "The combined efforts of our adult and student population helped to donate 166 units of blood that will potentially save 498 lives! This unusual and uncomfortable incident cannot outdo the good that was done through our donations."
RCS parents who have any concerns about their children receiving inappropriate communication from a stranger, can contact the Coeymans Police directly at 518-756-2059.
Parents who have further questions for the district can call Principal Bailey at 518-756-5200, ext. 2003.
"In addition to our pride in our student donors, we are proud of the one student who took action to be safe and protect others," said Bailey. "We teach students to speak up against inappropriate sexual advances and other forms of abuse and harassment. When students speak up, they are safer and we are safer as a community."
Vote on this Story by clicking on the Icon