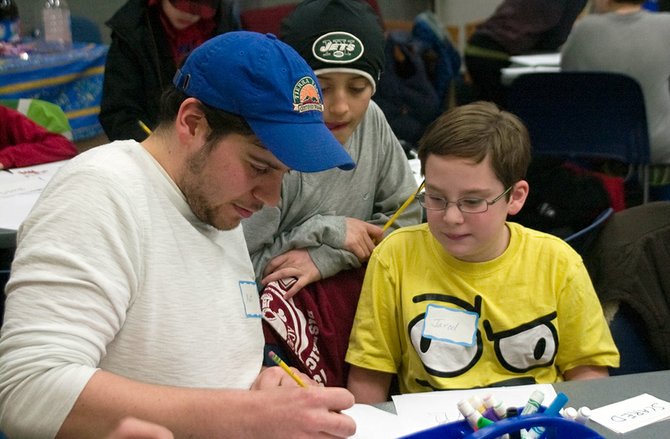 VOORHEESVILLE — When it comes to young readers, one might think doodling to be the arch nemesis for teachers. But one local library is taking a more graphic approach to getting kids interested in books.
Elementary students were creating their own characters instead of reading about them Friday, March 15, at Voorheesville Public Library. Matthew Laiosa gave the children a crash course in drawing and developing characters and before long, young imaginations were bringing zany characters to life. A few kids even developed their own comic strips and shared their tales.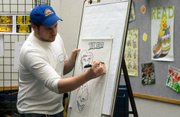 Matthew Laiosa, a 26-year-old Slingerlands native, presented the first workshop in the library's Comics Connect programs, which features three programs about character development and creation for graphic novels and comics. The program is a collaborative project of the Mohawk Valley Library System and the Upper Hudson Library System, with the library and school district receiving funds through the state Library's Family Literacy Library services grant program.
Comics might not be a parent's first choice when thinking of reading material for beginning readers, but Joyce Laiosa, head of the library's Youth and Family Services and Matthew Laiosa's mother, said it could spur interest in reading.
"What we are really about is trying to get parents that don't believe comic books are reading, that this is really reading," Joyce Laiosa said. "The visual use of pictures and words together helps with reading comprehension. Kids get more excited about reading, because they are getting to choose what they like."
She said many early reader books have jokes that can fall flat with kids, but comics tend to be funnier to them.
"There isn't a lot that gets them excited for the jokes," she said. "The comics are more in line with where the children are."
The Comic Character Quick Draw workshop was more popular with boys than girls, with 15 boys and three girls in attendance. Joyce Laiosa wasn't surprised with the gender difference, because the grant is aimed at getting boys interested in reading. They are typically the gender least interested in reading.
(Continued on Next Page)
Prev Next
Vote on this Story by clicking on the Icon