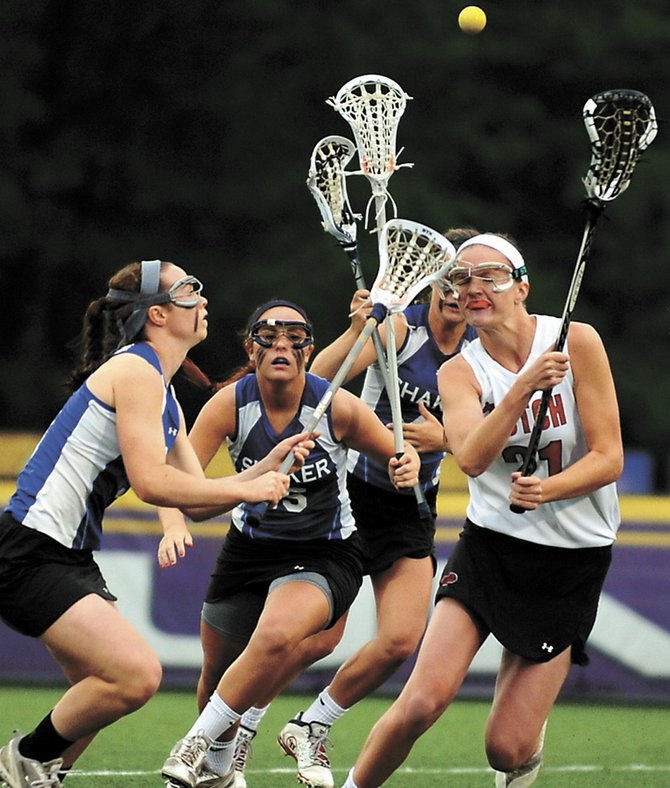 ALBANY — For the Guilderland girls lacrosse team, Thursday's 15-8 victory over Shaker in the Section II Class A final ended three years of frustration.
For Shaker, the frustration may last into next season.
Morgan Hardt scored five goals, and Rebecca Golderman contributed four goals to lead Guilderland (16-1) to its first Sectional title since 2010. The Lady Dutch lost the 2011 and 2012 finals, each by one goal.
"The past two years, they are what they are," said Hardt. "We put them as a chip on our shoulders."
"I had no doubt in my mind it was going to be a back-and-forth game, and it was," said Guilderland coach Gary Chatnik. "Theyre a good team."
Shaker coach Kara DePaula had no problem admitting Guilderland deserved to win the game. What she had a problem with was the officiating, as her Blue Bison (15-2) were given three yellow cards.
"I don't like to blame the refs, but it was really a one-sided game from the beginning," said DePaula. "We couldn't get a call for anything to save our lives. Do I think (Guilderland) should have won the game? I do. I just think they should have let us play the way we wanted to."
The turning point came at the end of the first half with Guilderland leading 8-4. Shaker's Madeline Devine tried to get a shot off before the halftime horn, but she wound up colliding with a Guilderland player after the horn sounded. Devine was given her second yellow card of the evening and was disqualified from the game.
"It should have been a shooting space call first," said DePaula. "They called her for a dangerous shot, but I think it should have been a shooting space call because she didn't have any space to shoot."
The Lady Dutch started the second half with a two-minute man advantage, and they capitalized with goals by Golderman and Hardt. Shaker's Julia Lennon scored twice to close the deficit to 10-6, but Guilderland went on a 5-1 run over the next nine minutes to pull away for good.
"We really converted well, and when we had the opportunities, we took them," said Hardt.
"Our assists were just as important (as our goals)," said Chatnik. "We moved the ball around very well right from the first draw."
Guilderland advances to next Wednesday's regional game at Pine Bush High School, while Shaker looks ahead to next season when it will have all but three starters returning.
Vote on this Story by clicking on the Icon