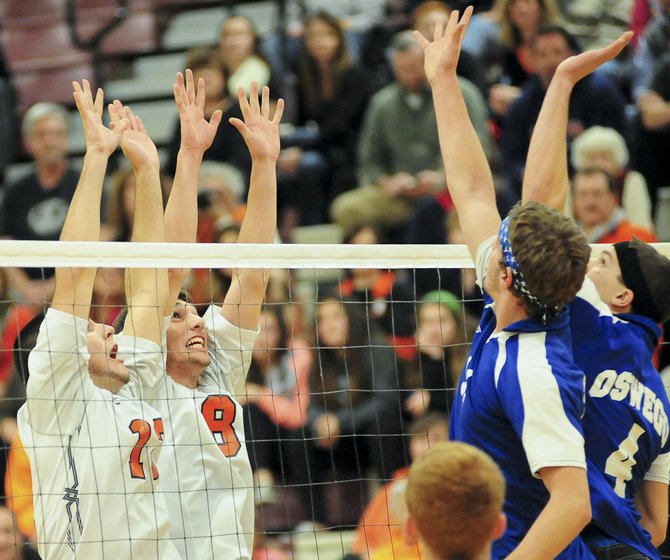 Burnt Hills — The Bethlehem boys volleyball team is heading back to Glens Falls.
The Eagles (27-1) took care of business in the Division I regionals, as they defeated Section III's Oswego and Section I's Suffern last weekend to qualify for this weekend's state tournament at the Glens Falls Civic Center.
Photo Gallery
Bethlehem vs Oswego in boys volleyball State Regional: Photo Gallery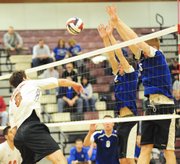 Bethlehem advances to the State Tournament with a win over Section III Champion Oswego on Nov. 8. See all the photos here
It's the fourth straight year that Bethlehem has reached the state tournament, but the Eagles have yet to make it out of pool play. They came close last year as they needed a win in their last game to advance to the finals, but they allowed a late lead to slip away.
"You hope they've learned from that," said Jason Wood, Bethlehem's first-year coach. "I wasn't there, but I remember the situation where they were up 21-17, and if they won that game they would have made it to the finals. I'm hoping they take what they learned from that situation and apply it to this year."
Bethlehem was in fine form during Friday's regional match against Oswego at Burnt Hills-Ballston Lake High School. After getting through the first two games 25-22 and 25-21, the Eagles beat Oswego 25-18 to sweep all three sets.
"I was very pleased with our performance against Oswego," said Wood. "I thought we played with a lot of high emotion, we played under control and we played with a lot of determination."
Aaron Carrk had 16 kills, and Kevin Mahar dished out 38 assists for Bethlehem in Friday's match. John Sica contributed 10 kills and an ace, and Dan Ball added five aces and four kills.
The Eagles ran into a little trouble closing out Suffern in Saturday's regional final at Hudson High School. After taking the first two sets 25-17 and 25-13, they dropped the third set 25-15.
"You prefer to keep the momentum going and close it out in three (sets), but Suffern got on a roll and we got caught up in the emotion of it," said Wood.
(Continued on Next Page)
Prev Next
Vote on this Story by clicking on the Icon