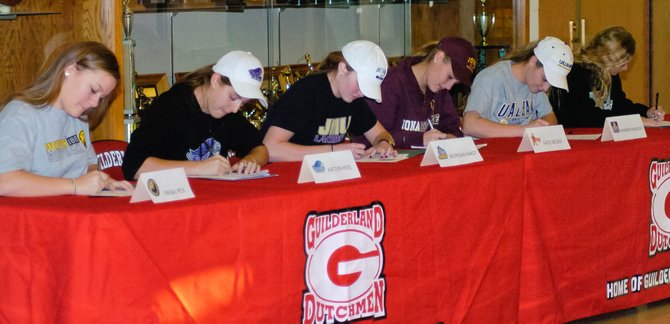 GUILDERLAND — Six Guilderland seniors signed their national letters of intent at an official ceremony Thursday at the high school.
Three members of the Guilderland girls lacrosse team are heading to NCAA Division I schools. Midfielder Katie Becker will attend Iona College next fall, while Morgan Hardt will play for James Madison University in Virginia.
"Academically and athletically, it suited me perfectly," said Hardt. "The campus is great, and the coaching staff really knows what they're doing."
Shannon Mackesey is staying close to home, as she will attend the University at Albany.
"I love (my family) dearly, and I knew that I'd miss them so much that I decided to stay here," said Mackesey. "And coach (John) Battaglino is a great coach."
Three other Guilderland seniors are headed to Division II schools -- lacrosse players Kaitlyn Hess (Stonehill) and Brittney Pulliam (University of Tampa), and softball standout Abigail Peck (Pfeiffer University).
Hess said choosing Stonehill gives her the opportunity to compete for national championships.
"When I was looking for a lacrosse program, I was looking for one where I could compete," said Hess. "And when Stonehill contacted me, I knew it was a good school academically but when I saw their program's history of winning national titles, I knew it's where I wanted to go."
Peck is following in her family's footsteps by choosing Pfeiffer University in North Carolina.
"Both of my parents went there to play sports, so it'll be interesting to be the next generation to go there," said Peck.
Vote on this Story by clicking on the Icon