GUILDERLAND — Guilderland business owners will see a familiar face leading the local Chamber of Commerce through a transition in leadership and future direction.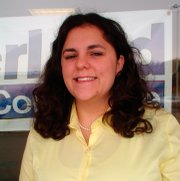 The Guilderland Chamber of Commerce announced Thursday, Nov. 7, its membership and program manager, Erika Gauthier, was selected as interim president. Gauthier will lead the Chamber for approximately six months as its board of trustees searches for a new president and strategically plan the direction of the organization. Kathy Burbank stepped down as president of the chamber on Friday, Nov. 8, to become executive director of Community Caregivers, which is a not-for-profit offering home-based, non-clinical services for Albany County residents.
"We are confident that Erika Gauthier has the capability to lead the chamber through the transition," Chamber Board of Trustees President Jenni Bliven said in a statement.
Gauthier has worked at the Guilderland Chamber for four years and started her career at the Montgomery County Chamber of Commerce focusing on tourism. After a year at the Montgomery Chamber, she worked in marketing at corporate and small businesses. She also has worked with the Bethlehem Chamber of Commerce on membership issues.
Gauthier said since she already knows chamber members, the transition should be an easy one.
"I am excited for this opportunity to get to lead the chamber during this time," Gauthier said in a statement.
Gauthier's new position will see her getting out of the office more, she said, as she steps up to become the "face" of the chamber.
Not only is the chamber transitioning to a new leader, but health insurance reforms through the Affordable Care Act are affecting all chambers over the next year, according to Bliven.
The Guilderland Chamber has about 500 members, and many take advantage of health insurance plans offered through the chamber. Members that are sole business owners will have to go through the state health insurance exchange under the new regulations.
(Continued on Next Page)
Prev Next
Vote on this Story by clicking on the Icon