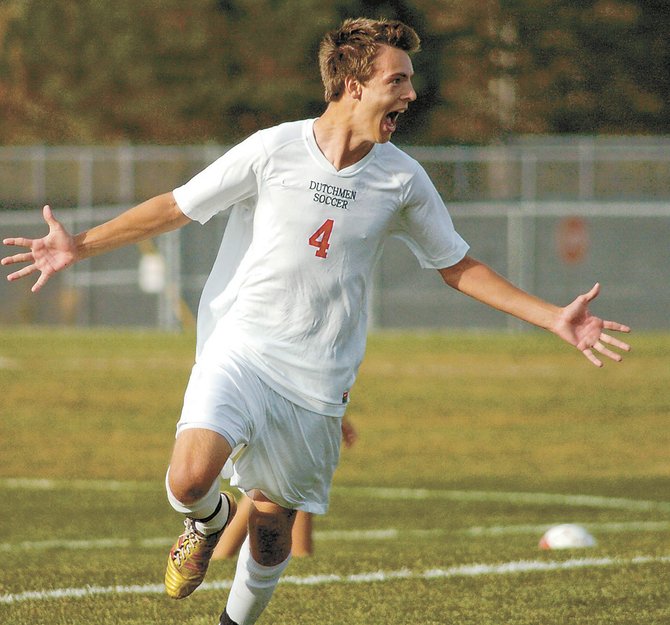 GUILDERLAND — Guilderland boys soccer coach Mike Kinnally isn't ready to declare his team the champions of the Suburban Council South Division just yet, but he likes the position the Dutchmen are in.
With four division games left, Guilderland (10-2-0, 15 points) has a four-point lead over second-place Bethlehem (8-4-0, 11 points) for the regular season title. Any win in the Dutchmen's remaining games clinches first place in the division.
"At least, we've put ourselves in a position where we're in control," said Kinnally.
The four teams Guilderland faces down the stretch – Averill Park, Colonie, Columbia and Mohonasen – have all struggled this season, but Kinnally said he's not taking any of those games for granted.
The Dutchmen are coming off a week where they posted wins over three quality opponents. They edged Shenendehowa (9-2-1, 14.5 points) 1-0 last Tuesday and Bethlehem 2-1 last Thursday before shutting out Niskayuna (8-3-1, 12.5 points) 2-0 Saturday. Guilderland's win over Niskayuna combined with Bethlehem's 2-1 loss to Shen established the Dutchmen's four-point division lead.
"With a league like this, to have Shenendehowa, Bethlehem and Niskayuna all in a row … was really rough this week," said Kinnally. "I give our guys a lot of credit for maintaining it physically and emotionally."
The key to Guilderland's success last week was its ability to score off corner kicks. Christopher Czekay and Jack Hanlon each knocked two corner kicks into the goal during the Dutchmen's three-game stretch.
"We've been going to the ball really well on set pieces," said Kinnally. "We're getting great services from Connor O'Brien and Kledis Capollari."
Czekay had the lone goal in Guilderland's 1-0 victory over Shen last Tuesday when he headed in O'Brien's corner kick two minutes into the game. The rest was left to Guilderland goaltender Kedrick Weeden and the Dutchmen defense, as they shut down Shen's attack.
(Continued on Next Page)
Prev Next
Vote on this Story by clicking on the Icon