GLENMONT — Good, bad or indifferent, much has been said about the experience of the American soldier in the Vietnam War. But less so through a Vietnamese lens.
Albany Law School professor James Redwood started writing about Vietnam more than 25 years ago through fictional short stories. Last year, Redwood was awarded with the Notre Dame Review Short Fiction Prize for his story "Love Beneath the Napalm." In August, Notre Dame Press published a collection of his short fiction in a book with the same title as his prize-winning story.
Redwood, a 64-year-old Glenmont resident, said he was "stunned" and "honored" upon hearing his story was selected for the prize, which recognizes authors that haven't published a full-length book. Previously, his work had been published in literary journals including Virginia Quarterly Review, Kenyon Review, TriQuarterly and the Notre Dame Review.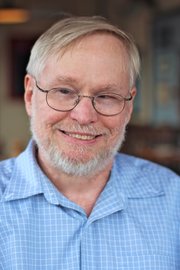 Redwood first arrived in Vietnam in 1972, but not on the battlefield. For two years, he taught English in Saigon at various schools and universities. There wasn't "any real organized program" for him to go through, Redwood said.
"I simply wrote to some Vietnamese schools and universities and I basically asked them … if I showed up, would you be willing to hire me to teach English?" he said.
Redwood became aware of Vietnam in the early 1960s, and as America's involvement in the war increased he also grew more focused on the country. After graduating from Oberlin College in 1971 with a bachelor's degree in English, he signed up to join the Peace Corps.
He was scheduled to travel to South Korea, but ultimately he wanted to go to Vietnam. But the Peace Corps wasn't in Vietnam at the time because of the war. Redwood considers himself lucky, too, because he was in the draft's first lottery for the war and had a "very high" lottery number that keep him from being drafted.
(Continued on Next Page)
Prev Next
Vote on this Story by clicking on the Icon
More like this story