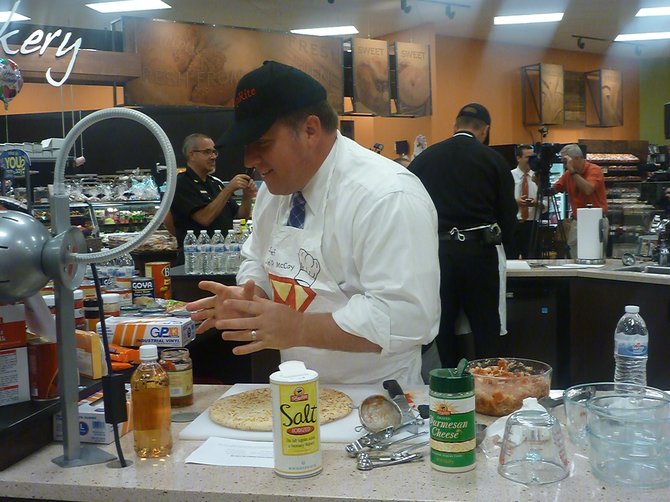 ALBANY COUNTY — Cold tuna fish pizza may sound unappetizing on a normal day, but it could seem like a gourmet feast in an emergency situation.
In an effort to highlight the importance of being prepared for an emergency, Albany County Executive Dan McCoy and Albany County Sheriff Craig Apple participated in a cook-off competition on Thursday, Sept. 12. The event was a partnership between ShopRite Supermarkets and Albany County.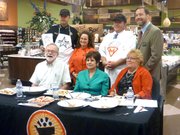 "We wanted to use this competition to show people how to cook in an emergency situation," said ShopRite Chef Melissa Doney Sheridan, who emceed the event.
Sheridan was asked to select recipes for competition and she said she found the majority of them on an emergency preparedness website. She then made sure to select recipes that called for random canned foods or nonperishables that people may find in their cabinets.
"A lot of people take for granted that they may have a grill in the back yard, so if the power goes out they can use that … but in a natural disaster you might not have access to that or a gas stove," Sheridan said.
Apple and McCoy were each asked to randomly select a main course and a dessert to prepare for three judges. Only nonperishable items could be used as ingredients and the two competitors were only provided with random cooking tools they might find in the event of an emergency. To earn more classic cooking tools, like a can opener or knife, McCoy and Apple had to correctly answer important questions about being prepared for an emergency.
McCoy selected tuna fish pizza and chocolate peanut butter pie, while Apple chose butter bean salad and vanilla pudding parfait. The competitors had 30 minutes to "cook" the items and serve them to the three judges: Colonie Supervisor Paula Mahan, Albany County Legislator Mary Lou Connolly and Rev. Stephen Lalor of the Albany County Citizen Corps.
(Continued on Next Page)
Prev Next
Vote on this Story by clicking on the Icon