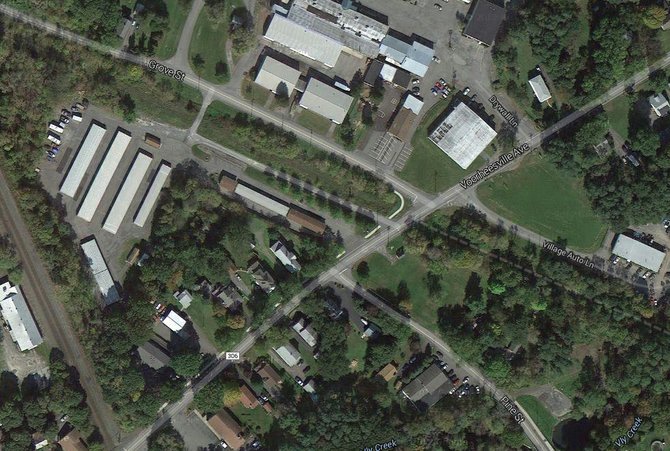 VOORHEESVILLE — Voorheesville officials are looking to enhance its end of the Helderberg Hudson Rail Trail and possibly build a museum to honor local railroad history, which has fittingly characterized the community.
The village's overall vision could take several years to realize, with funding the primary obstacle, but a recently announced federal grant opportunity might fast track development. Regardless of outside funds, the village is looking to create a paved parking lot for about a dozen cars off Pine Street. Additional funds would be applied toward amenities at the site, such as picnic tables.
The most extensive work would be a short distance from the Rail Trail's current end. Village officials are looking to extend the trail along Grove Street — either along a strip of land or through creating a bike lane on Grove Street — roughly to the location of Voorheesville Self Storage. Then on one patch of land there would be facilities, and the museum would be located across the street, which could be constructed to replicate an old rail station or use an old rail car. The village owns the patches of land.
"We've been talking off and on since last year about enhancing the rail trail experience," Voorheesville Mayor Robert Conway said. "It is an exciting prospect, and it would really enhance the village."
Conway said the plans were "very preliminary," and he had not reached out to any local officials or organizations about the proposal.
"I don't expect it would all be developed overnight," Conway said. "If we get the basics in place, then it is something we can continue to enhance as time goes on."
The majority of funds could be secured relatively quickly through the federal Transportation Alternatives Program, which the state Department of Transportation is administering.
There is $50 million available through the program, and up to 80 percent of proposed project costs could be provided. Village officials believe in-kind services could be used towards the local cost. The tentative deadline for applications is June 1.
(Continued on Next Page)
Prev Next
Vote on this Story by clicking on the Icon