DELMAR — Cynthia Werner was on track to obtain her medical degree when she was enticed to return to a part-time job she held while at the University at Albany.
In 1979, Werner was scouted by a college friend to become a performer for their new singing telegram company. It was a fun concept thought up by the then students, but they needed people who could sing, dance and be lively.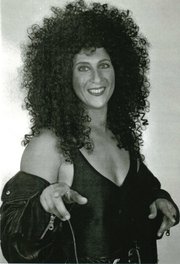 "I was interviewed and had an audition right there in my friend's apartment," said Werner, originally from Florida, N.Y. "They hired me on the spot."
She worked at Zing-A-Gram as one of the company's original singers while she finished her pre-med degree at UAlbany. She quit after graduation when she began medical school and was offered a job at Albany Medical Center doing research in the Pathology Department studying heart disease.
"The work was fascinating until I was asked to destroy the lab animals at the end of our study," said Werner. "I objected to killing the animals and stood outside the door crying. My colleagues could see how upset I was, so they told me that I could go home early."
The incident left Werner feeling uneasy about her future career. She had wanted to be a doctor to save lives, not take them away.
It was around the same time the original owners of Zing-A-Gram had put the company up for sale. They had graduated from college and were ready to move on to a warmer climate. Werner remembered really liking the gig, and had a lot of fun singing. She also thought she could eventually add different characters, so in 1981 she quit medical school and bought Zing-A-Gram.
"I came to Albany to go to college and eventually become a doctor. Instead I ended up taking over a singing telegram service and becoming my own boss at the age of 22 years old," said Werner.
(Continued on Next Page)
Prev Next
Vote on this Story by clicking on the Icon