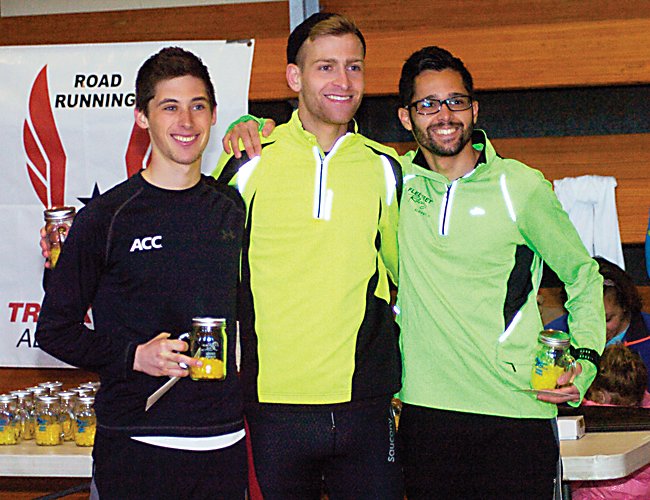 DELMAR — Two young runners pushed the pace at Sunday's Delmar Dash.
Niskayuna High School graduate Louis Serafini won the men's division title by three seconds over former Voorheesville track star Macky Lloyd. The 22-year-old Serafini, who now lives in Brookline, Mass., finished with a time of 24:43, which is believed to be a record for the current course, while Lloyd placed second with a time of 24:46.
Photo Gallery
Delmar Dash 2014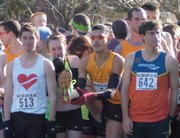 Here are the highlights from the 2014 Delmar Dash Sunday, April 6.
"I've been training very hard for a marathon in May, so I knew I was in good shape for this race," said Serafini.
"I knew it was going to be competitive, so I just wanted to race the race," said Lloyd, who is 24 years old.
Serafini, Lloyd and Ricardo Estremera separated themselves from the pack quickly and raced each other for first place.
"I had two guys on me the whole way. They didn't give me an inch," said Serafini.
Lloyd took the lead for miles three and four, but he couldn't hold Serafini back and had to settle for being the runner-up.
"It would have been nice to get the W (win), but Serafini's a great kid," said Lloyd, who was coming off a victory in the Runnin' of the Green last month in Green Island.
"He's a good runner. I've raced with him for a long time," said Serafini.
Several former Delmar Dash champions competed in this year's race. The top finisher among them was last year's champ, Alex Paley, who placed fourth with a time of 25:13.
"It was great competition — a lot of great people," said Paley. "I was just trying to hold on."
Megan Hogan repeated as the women's division champion with another record-breaking performance. The Saratoga Springs native smashed her old mark of 27:38 by winning this year's race with a time of 26:42.
"I tried to hold it and go as hard as I could," said Hogan.
Eamon Dempsey and Christie Macfarlane were the top Delmar runners in this year's Delmar Dash. Dempsey was 18th overall with a time of 26:47, while Macfarlane captured the women's 19-and-under division title with a time of 30:50.
Vote on this Story by clicking on the Icon