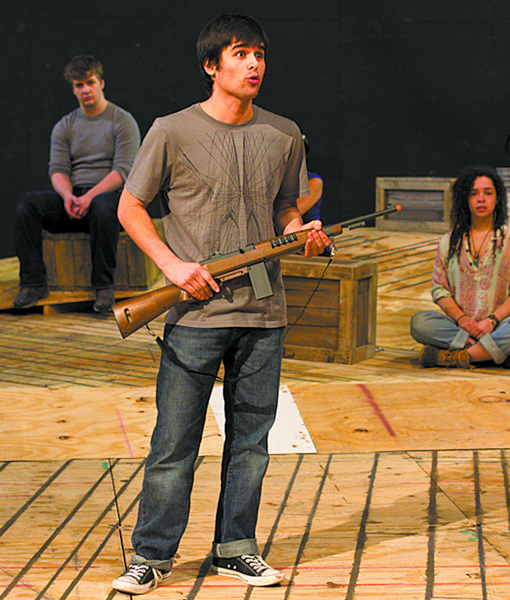 In a time of instant communication, distant human interaction is often accomplished by way of tweets or texts. The act of using a pen and paper is rare these days, still nothing captures a moment like a personal letter, especially a war letter.  
IF YOU GO
• What: "If All the Sky Were Paper"
• When: April 10-13 and April 17-19, at 8 p.m., except for 2 p.m. Sunday matinees
• Where: Skidmore College, 815 N. Broadway, Saratoga Springs
• How much: $12 general admission, $8 for students and seniors
• Info:580-5439 or email boxoffice@skidmor...
In every American conflict, from the Revolutionary War to Iraq and Afghanistan, soldiers have captured the emotions of war in their letters. Skidmore College's theater department  brings some of those letters to life in the war letter-inspired production, "If All the Sky Were Paper."
The play tells the story of war from the viewpoint of the men and women on the front lines and the loved ones on the home front.
"When I first received the script … it seemed the perfect project," said Lary Opitz, Skidmore professor and director of the show.  "I read the New York Times every morning and am quite surprised that every day, though we are still at war in Afghanistan, the news about our troops in Afghanistan is buried. We have troops in harm's way at this very moment, yet the conversation that we are currently engaged in a war is so far from us, particularly with young people, unless they have a relative or friend who is serving."
Opitz said that through the play and the course that is attached to it, he hoped to give students a better understanding of the nature of combat in American history.
"I wanted to help them make this discovery and understand the toll of war on individuals in combat," Opitz said.
(Continued on Next Page)
Prev Next
Vote on this Story by clicking on the Icon