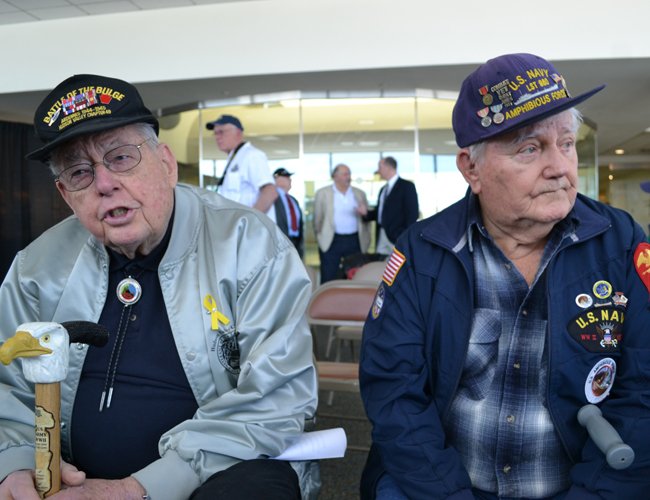 COLONIE — Dozens of World War II veterans are set to take a trip to Washington, D.C., to visit the WWII memorial on the 70th anniversary of D-Day next month.
At a press conference Thursday, April 10, at the Albany International Airport, members of the newly reorganized Patriot Flight Inc. announced that 57 veterans are going on the May 10 flight.
The local chapter of Patriot Flight, which is based in Colonie, is an all-volunteer group that gives veterans a free trip to the memorials in Washington, D.C. The organization recently underwent some changes, and in January, Frank DeSorbo took the helm as the new president. He is also president of the D-Day Revisited association.
DeSorbo credited World War II veteran Bill Peek for his vision and mentoring, which helped revitalize the local chapter.
"I met with the initial directors and officers at that meeting, and I told the Patriot Flight members that this was a reorganizational meeting, but I also had already reserved 100 seats for a flight to Washington, D.C., on May 10." said DeSorbo. "I could not pass up the opportunity to recognize and honor those gallant veterans with the flight theme of D-Day goes to D.C. This is the 70th anniversary of D-Day."
Patriot Flight raises money to pay for the cost of the plane tickets, a WWII memorial book, food and a T-shirt for the veterans so they can go to D.C to see the World War II memorial, which was completed in 2004 in honor of the 16 million men and women who served in the U.S. military and the more than 400,000 who died in the war.
Many veterans who had been on past Patriot Flights said the joy is much more than just going to see a memorial that was built for them; it's the grand welcome back they receive when they get back to Albany. Many of them were never given a ceremony when they returned.
(Continued on Next Page)
Prev Next
Vote on this Story by clicking on the Icon