GUILDERLAND — An Albany teen allegedly pepper sprayed two loss prevention officers, a Macy's employee and a shopper while attempting to steal merchandise from the store, according to police reports.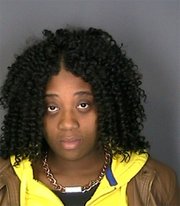 The Guilderland Police Department responded to Macy's in Crossgates Mall around 12:30 p.m. Friday, Dec. 13, for a reported shoplifter. According to the investigation, 17-year-old Rayonna S. Ward, of 292 Sherman St. in Albany, had resisted the two loss prevention officers when they attempted to stop her and allegedly pepper sprayed them, along with the other victims. She was taken into custody with the assistance of an off-duty law enforcement officer.
Ward was charged with four counts of assault in the second degree, a felony; burglary in the third degree, a felony; criminal possession of burglary tools; petit larceny; resisting arrest; reckless endangerment in the second degree; unlawfully possessing noxious material; and criminal nuisance in the second degree.
Police said there were two outstanding warrants on Ward, one for petit larceny and false impersonation from the Town of Guilderland and another from the City of Albany for false impersonation.
Vote on this Story by clicking on the Icon