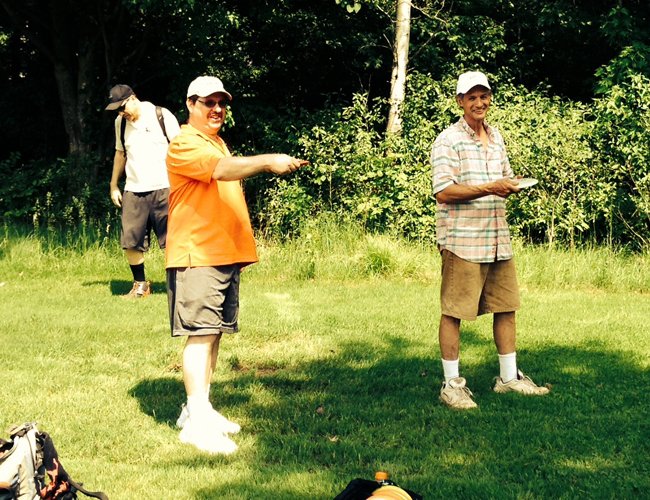 BETHLEHEM — Golf isn't for everyone, and Dale Ezyk knows it.
The golf professional said he wanted to do something different to broaden his clientele and introduce even the most novice player to the game. He knew he had the space at Colonial Acres, he just needed the idea.
That's when John Andrews, the head golf professional at Colonial Acres, suggested disc golf.
"Our vision has always been to make the golf course a community asset for all of Bethlehem's residents," said Ezyk. "This is something anyone can do, and it may appeal to those who aren't fans of traditional golf."
Andrews said he thought of the idea a month ago, when he began doing extensive research. They are now fully committed to the sport, having bought a 900-piece set, which will allow customers to rent the equipment needed for a round. Beginner sets can also be purchased within the shop.
The rules for disc golf are similar to traditional golf. Players "tee off" from a designated area and attempt to get their discs into a metal basket at the end of each hole. The discs used are a bit smaller and heavier than a traditional disc. Three types of discs are used, consisting of a driver, mid-range disc and a putter.
"Right now, disc golf is the fastest growing sport in America," said Andrews. "We came up with the idea because we have a location and layout that would be perfect. It also ties in with introducing more people to the game."
Ezyk said the hope is those who come to play disc golf may eventually want to take up traditional golf. He also anticipates the opposite will happen, with golfers coming out of their comfort zone to pick up a disc.
Colonial Acres is working closely with members of the Capital Region Disc Golf Club to come up with the layout of the course and spread the word about the new venture. Andrews said the metal baskets have yet to be permanently placed in the ground as they go through trial runs.
(Continued on Next Page)
Prev Next
Vote on this Story by clicking on the Icon