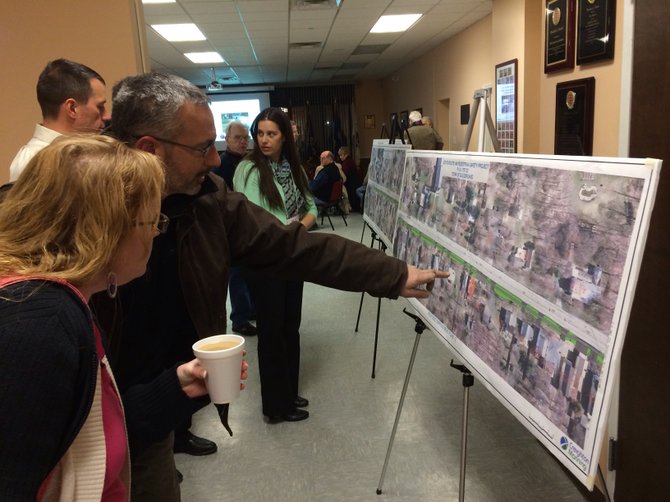 GUILDERLAND — Hamlet residents were surprised to hear the sidewalk slated for Guilderland Center, which took several years from conception to construction, was technically going to be a pathway. The difference between the two comes down to a curb.
"What we were most concerned with was slowing traffic, and (prior consultants) insisted that curbs were very important in terms of slowing traffic down and the psychological factor that's involved when you come into an area that has curbs," Susan Wheeler-Weeks said. "We're very concerned that the curbs have been eliminated, and we are also concerned we don't hear anything about slowing traffic."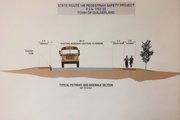 Wheeler-Weeks, a member of the hamlet's former Study Advisory Committee, was one of around 15 people who turned out to the Guilderland Center Firehouse on Wednesday, Feb. 26, for a public meeting on the Route 146 Pedestrian Safety Improvement Project.
Susan Torelli, project engineer for Creighton Manning, agreed curbs "visually" slow traffic down, but she contended the pathway would have a similar "visual affect."
"It is not necessarily just the curb, it is also the sidewalk," Torelli said. "We are saying pathway versus sidewalk, but I think that pathway is also a visual cue to the drivers."
She said if more funding becomes available in the future, then a curb could be installed along the pathway, along with other improvements outlined in the Guilderland Center Neighborhood Master Plan released four years ago.
"This project is what it is," she said. "This is the first step in that vision."
Several attendees were frustrated over how long the project has taken to proceed, but Town Supervisor Ken Runion had previously said local officials had waited for federal funds to be released after receiving the grant several years ago.
"There has been a lot of studies that have been going on in this area, all the way back to 2000," Torelli said.
(Continued on Next Page)
Prev Next
Vote on this Story by clicking on the Icon