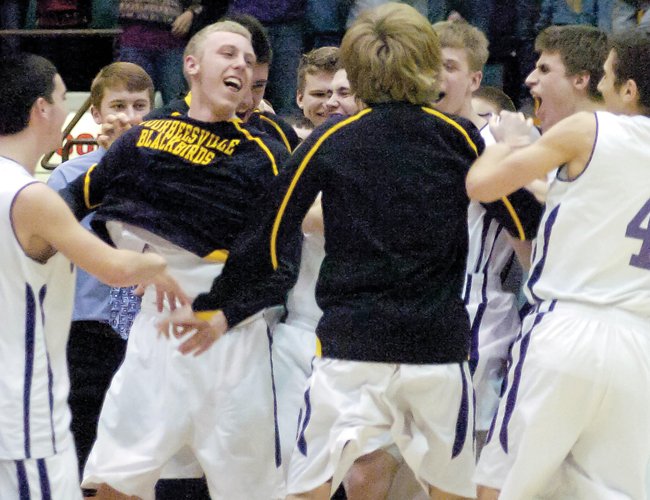 With two weeks remaining before the start of the spring sports season, it's time to take a glance back at the recently completed winter season.
Reader poll
Voorheesville boys basketball's 20-game win streak 5%
Gunnar Zemering's pool exploits 3%
Guilderland boys basketball reaches Class AA Sectional finals 86%
Grace Smith wins high jump title at states 4%
Giacone sisters lead Bethlehem girls basketball 1%
91 total votes.
Team of the winter: Voorheesville boys basketball
After beginning the season with a win and a loss, the Blackbirds embarked on an impressive 20-game winning streak that included the Section II Class B title – their first under head coach and Voorheesville alumnae David Burch.
The lone regular season loss came Dec. 13 when the Blackbirds lost to defending state Class B champion Watervliet 77-63. There could have been several more, though, according to Burch.
"There was the first Schalmont game (Jan. 10) where we needed a last-second three-pointer to send the game into overtime," said Burch. "There was the Mechanicville game (Jan. 3) where we won at the end. There was also the Cohoes game (Jan. 23) where we pulled that one out at the end.
"There were a lot of games that we could have lost. It was just the drive and desire of these guys … just refused to lose."
Voorheesville used a variety of ways to beat its opponents. Three-point shooting specialist Dylan Hensel gave the Blackbirds someone who could stretch opposing defenses. Inside, forward Logan Hotaling and center Joseph Vogel gave Voorheesville toughness on the boards. And, reserve guards Shane Parry and Isaiah Meaux could be counted on for a quick offensive spark.
However, the player that made Voorheesville go was Noah Crawford. The senior guard was fearless in driving to the basket, and he distributed the ball well to his teammates. Crawford was also one of the team's top defenders in terms of forcing turnovers.
"That was a big key to our success," said Burch. "It took a while for all of us to fall into our roles, and because different people stepped up at different times for us, we were hard to defend."
(Continued on Next Page)
Prev Next
Vote on this Story by clicking on the Icon