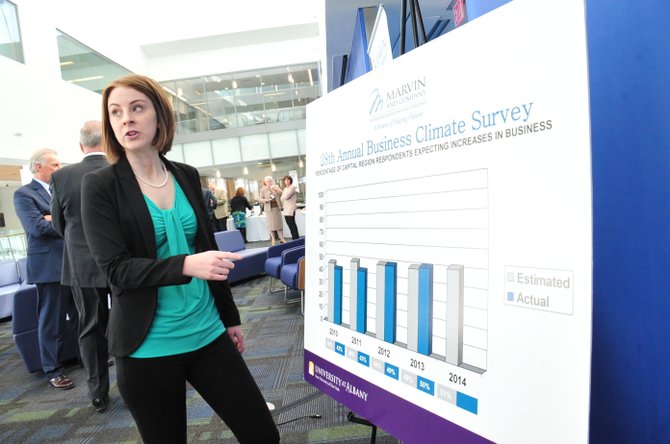 CAPITAL DISTRICT — Area businesses fear how much health care could hemorrhage its bottom line, according to recent surveys, but the overall outlook foresees a bright future.
The 28th annual University at Albany School of Business and Marvin and Company "Business Climate Survey" released in late February revealed more than 90 percent of businesses plan to remain stable or expand during this year. More than 80 percent of respondents saw their business increase or remain stable during last year, with almost 70 percent viewing the Capital District economy as recovering or prospering.
Health care costs remained the top concern, though, which has occurred all but two of the last 19 years.
Kevin O'Leary, director of Marvin and Company, noted more than half of respondents expect the area's economy to continue prospering during the next several years despite "ongoing concern regarding health care costs, taxes, the national economy and government regulations."
O'Leary added more than 40 percent of regional businesses said the growing technology industry has had a significant or moderate positive impact.
"The technology sector of the Capital Region continues to help the other businesses in our economy," O'Leary said in a statement.
Almost 65 percent of businesses credit the Affordable Care Act (ACA) for increasing costs to the company or its employees, and 22 percent said the law required significant changes to health insurance coverage.
"Capital Region firms continue to prosper, despite significant concerns about the rising cost of health care," Donald Siegel, dean of UAlbany's School of Business, said in a statement. "The results showcase the resiliency of area businesses, stimulated by regional and federal investment in high technology, innovation and entrepreneurship."
Before UAlbany's results were released, Siena College Research Institute released similar findings in its seventh annual Upstate New York Business Leader Survey.
Approximately 80 percent of Siena's survey respondents were concerned about health care costs, with nearly 70 percent believing the ACA will negatively impact their business. Almost a third of the companies surveyed said benefits had already been decreased to cut costs. There has also been an increase in hiring part-time employees and 18 percent had reduced hours of existing employees.
(Continued on Next Page)
Prev Next
Vote on this Story by clicking on the Icon