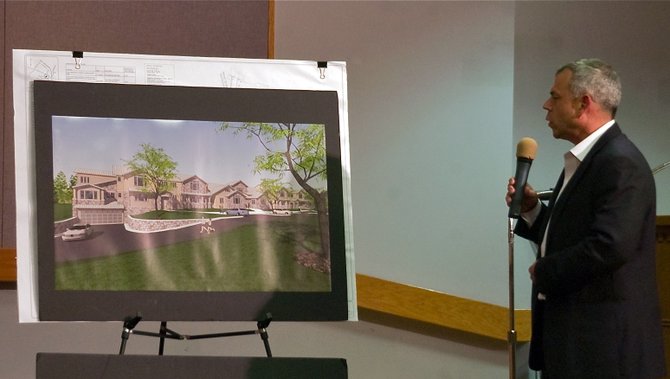 GUILDERLAND — There was not much new information presented on Wolanin Companies proposed luxury apartment complex at a recent planning board meeting, but some neighbors opposed to the project said they felt their interests were being sidelined.
The Guilderland Planning Board on Wednesday, May 14, heard an update on the site plan for a 210-unit apartment project behind 1700 Apartments in the hamlet of Westmere. A month ago, the Guilderland Town Board approved rezoning the 22-acre property from Single-Family Residential to Planned United Development District but included several conditions aimed at addressing neighbors' concerns.
Traffic Impact Study
Check out the traffic impact study for Wolanin's apartment complex proposal at our blog entry.
It was not enough for some neighbors who urged Planning Board members to not overlook them. Board members allowed public comments, even though there was not a public hearing.
Daniel Pfoltzer, of 8 Janet Lane, said traffic issues are "anything but settled." Pfoltzer said there could be an increase in auto accidents resulting from the project.
"This is a foreseeable thing that can be corrected now, but if you don't do it, the town is on notice that it will be sued and Mr. Wolanin will be sued," Pfoltzer said. "We will take whatever action is necessary to make our community safe, and we are not going to be railroaded by this board at all."
He also said the developer's traffic study was not properly done. The study, which is posted on www.spotlightnews.com, determined the project would have "no significant degradations in level of service" to adjacent intersections.
"We want to see you fighting for the citizens of our community on our side of the fence to make sure we're safe," Pfoltzer said.
Pfoltzer said he wanted to see documentation of the state Department of Transportation and Albany County signing off on the study.
(Continued on Next Page)
Prev Next
Vote on this Story by clicking on the Icon